Artificial Intelligence is dramatically improving the world in many ways. However, amidst all the convenient services A.I. provides, it creates a massive fear concerning mass unemployment. Several books and news articles have been released in recent years with visions of impending disasters caused by automation. The innovative features of ChatGPT are already setting the standard in sectors including marketing, advertising, customer service, and healthcare.
A couple of years ago, Elon Musk, the iconic Silicon Valley futurist who is the founder and CEO of SolarCity, Tesla, and SpaceX, commented that robots would take away people's jobs. However, with rapid technological innovations and advancements, robotics has been a threat to human dignity.
Why is A.I. chosen over humans? From fashion and health to construction, automation is beneficial. Artificial intelligence in the world of manufacturing has limitless potential. A properly trained A.I. system can understand customer requests in natural language, estimate customer's interests early enough, and apply the corporate policy to identify the best decision.
Here is the World Economic Forum data that shows the future job loss of low-skilled employees in different countries. The following graphical data represents the elimination of millions of jobs in various countries by 2030.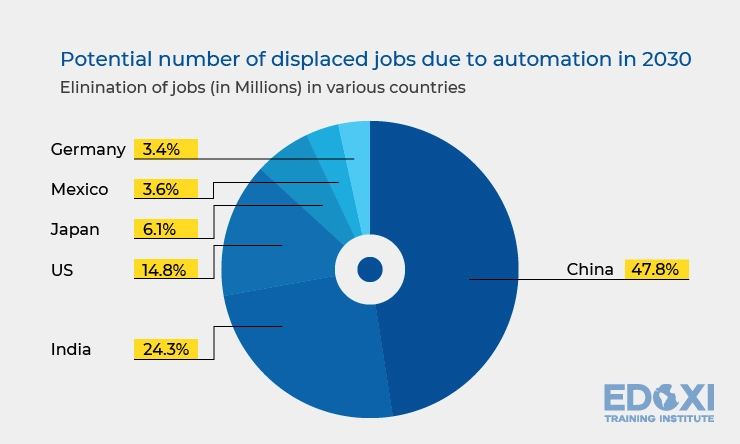 From the above data, it's evident that China will face the most job elimination for low skilled employees. The data covers six countries. However, more countries will face more significant job losses due to automation.
| | |
| --- | --- |
| Country | Assumed job elimination (in million) |
| China | 236m |
| India | 120m |
| U.S | 73m |
| Japan | 30m |
| Mexico | 18m |
| Germany | 17m |
Low-skilled professionals with no multitasking jobs are at greater risk. Read below to know about how RPA will impact job losses.
The Threat of Robotic Process Automation (RPA)
RPA is a software application that minimizes time to market and reduces the cost over the more traditional software-led approaches. The recent report of Bank of America says RPA will shrink headcount by 30 percent. Perhaps the most worrying trend is that emerging market jobs are also at risk of automation. This challenge will hit the low and mid-skilled sectors and employees. RPA is undoubtedly a revolution in business processes.
What does RPA do?
RPA handles repetitive, rule-based digital tasks quickly. It enables organizations to give mundane admin work to machines as it can take it into full compliance. The works generally include filling in the same information, generating the same data in multiple places, reentering data etc. This includes BPO roles and other low-skilled services.
| | |
| --- | --- |
| Country | Percentage of job loss |
| US | 21% |
| India | 22% |
| Philippines | 16% |
2017 Kearney Global Services Location Index™ shows us the expected widening impact of automation in BPO service in the above table. The critical determinant of this job loss due to automation is the mix of business functions that the BPO industry in these countries serves and the ease of replacement with automation.
Why do Companies prefer RPA?
Robotic Process Automation software bots can interact with any application as humans do, nonstop, much faster, and with precision. It will not only reduce errors and save time but saves costs too. It will remove the burden of working on repetitive tasks. You might have also heard about how RPO is changing the face of the BPO Industry. RPA meets the requirements to drive down costs and increase output in the dynamic business landscape.
Impact of RPA on the Existing Workforces
Since RPA mimics the activities of human beings and performs the low-skilled workforce, many soft skills required by professions will be taken over by automation. Reports show that the U.S lost over 60 million jobs with the emergence of Robots and Artificial Intelligence. Thus, the amount of individuals who will impact is immense.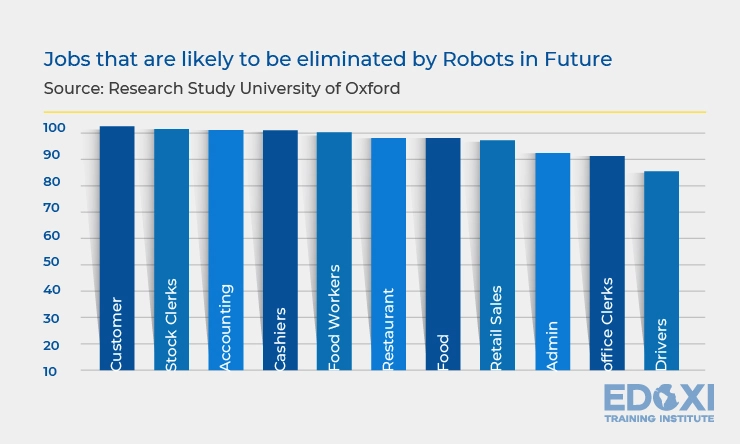 Bloomberg reports that more than 120 million workers globally will need retraining in the next three years due to artificial intelligence's impact on jobs. The world's most advanced cities will also have a huge hit and aren't ready for artificial intelligence disruptions. In India, TCS, Infosys, Wipro, Cognizant, HCL, Tech Mahindra, and other IT firms lay off 30 lakh employees.
An interesting recent AI innovation is Kiva Robot. Kiva Systems wants to revolutionize distribution centers such as Amazon and Zappos warehouses. Kiva is used for a small Amazon warehouse operation that costs around $1 million to $2 million. These tiny, cute, orange robots require only 15 minutes to find, pick and package an order. At the same time, a human will need about 60-75 minutes to accomplish the same tasks. Amazon is estimated to have 100,00 Kiva robots. "If I'd known about Kiva back then," says Craig Adkins, vice president of fulfillment operations at Zappos, "I'd have built the entire building with nothing but Kiva."
Which Professions are at stake?
Concerning the various jobs that would get affected by AI and RPA, here goes the list:
Telemarketing

Clerical roles

Receptionists

Couriers

Computer Support Specialists

Market Research Analysts

Advertising Salespeople

Retail Salespeople

Cooks and servers

Cleaners

Warehouse workers

Drivers

Labourers
Dependency on Automation starts from home. From cleaning robots to bright lights and intelligent homes, everything is advancing. As of today, the jobs mentioned above may be replaced by Artificial Intelligence.
The fourth Industrial Revolution and the technologies do not limit to IoT and nanotechnology. So it's high time that all of us get prepared and reskill to find better job prospects. Keeping up with new trends like ChatGPT and other developments in the field of AI requires a proactive approach to continuous learning and staying informed. Remember that the field of AI is rapidly evolving, and staying up-to-date requires consistent effort. By adopting a multi-faceted approach to learning and engaging with the AI community, you can keep pace with new trends like ChatGPT and remain at the forefront of AI developments.
Locations Where Edoxi Offers Artificial Intelligence Course
Here is the list of other major locations where Edoxi offers Artificial Intelligence Course
Artificial Intelligence Course in Dubai | Artificial Intelligence Course in Qatar | Artificial Intelligence Course in Sharjah
Jothi Kumar
Jothi Kumar
Jothi is a Microsoft certified technology specialist with more than 12 years of experience in software development for a broad range of industry applications. She has incomparable prowess in a vast grouping of software development tools like Microsoft Visual Basic, C#, .NET, SQL, XML, HTML, Core Java and Python.
Her fascination for desktop applications and their seamless graphical user interfaces inspire her to follow the most recent developments in information technology without fail. Apart from Microsoft technologies, she has a keen eye for UNIX/LINUX based technologies which form the backbone of all the free and open source software movement.
Lately, she is investing more of her time to learn Big data using several components of the Hadoop ecosystem like Hadoop Map Reduce, HDFS, HIVE, PIG and HBase. As a passionate wizard of Big Data, she has her eyes on state-of-the-art domains of information technology like Data Analytics, Data Science and Machine Learning, with brilliant mastery of Python programming language as a tool for them.
Her all-encompassing knowledge of automation framework design and implementation using the Selenium Tool serves as a proof of her commitment to learn and stay ahead of her competition. Her vision for her career is to be a life-long learner and help as many people as she can to gain in-demand information technology skills.